Ayla
Jun 28, 2020 23:11:58 GMT -5
Post by °Kayelle° on Jun 28, 2020 23:11:58 GMT -5
Heya wolfies! :3 Its been a while! I'm finally back more often now that I'm on summer break B). Without further ado, lets get to it!
Ayla
[Aye/lah]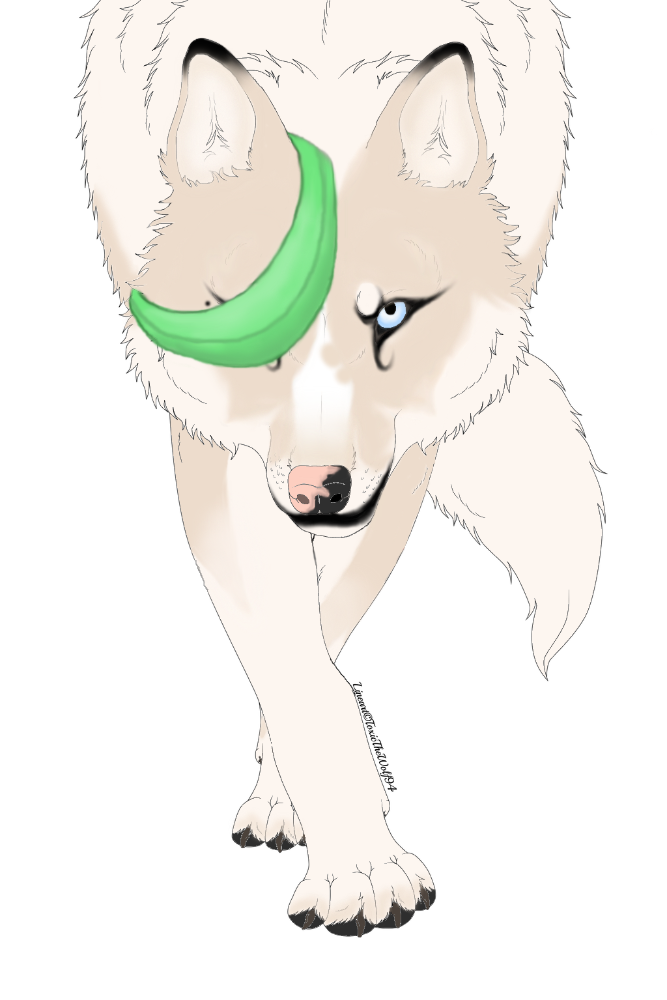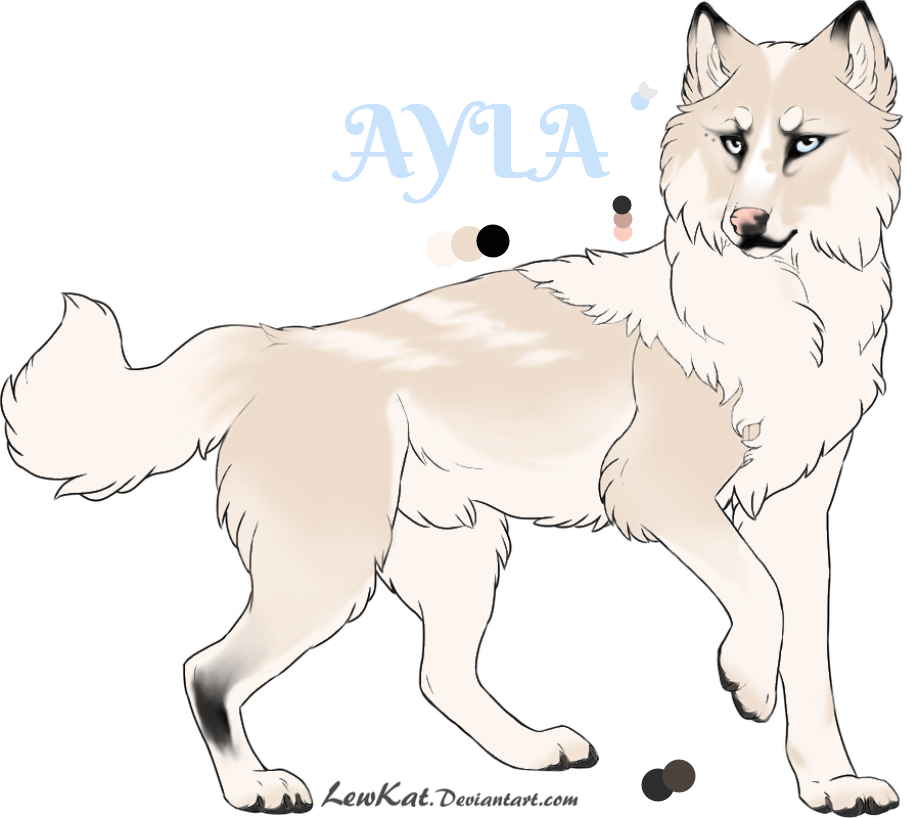 Age: 1 yr 2 mon
Gender: Female
Nickname(s): Silver eye, Ice eye, Ocean eclipse, Ayes
Species: Timber & Mexican wolf Mix
Accents: Moderate Mexican accent

Mother: Raven (deceased)

Father: Kyro (deceased)

Sibling(s): Fire ♂ (unknown)

Pack: None

~Personality~

Pos.: Loyal, Intelligent, Athletic, Observant, Brave, Fierce, Confident

Neu.: Shy, Feisty, Territorial, Sneaky, Reserved

Neg.: Aggressive, Sardonic, Blunt

Likes/Dislikes: Cool & warm climates, Spring & Summer, Sunshine, Moonlight, Water, Fireflies, Hunting/Hot climates, Winter, Liars, Insects that bite or sting, Try-hards, Arrogance, Anyone touching her eye patch

~Appearance~

Shiny, well-groomed Champagne Pelt with Tan accents, Black facial markings with a white blaze on her snout, Sharp, Dark brown claws with soft grey paw pads, Wears a thick grass blade eye patch to hide her right eye, which is a different color than her left eye, Grey and Pink nose, Sharp white teeth, and black ear tips

~Other~

Diet: Fish, Elk, Rabbit, Deer, Red Berries

Likely Found: Deep dark forests with considerable amounts of light entering through trees, or near streams

Preferred Den Type: Rocky with vine overhangs & a large amount of space

Scent: Unknown

~Romance~

Orientation: Heterosexual

Relationship Status: Available

Crush: None

Mate: None

Preferred Mate Personality: Loyal, Trustworthy, Protective, Accepting, Caring, Affectionate, Goofy, Stern, Well-mannered

Preferred Mate Appearance: Buff, Shiny, well-groomed Moderate length coat, Tall, A few warrior scars, Long tail

Preferred Mate Age: 1 yr 6 mo - 2 yr 7 mo

~History~

Ayla was born into a relatively large pack. Kyro, her father, was the most favored ruler in the whole territory. Legend says that a special pup would be born into the world to wipe out any source of evil that throws off the balance of nature. At the age of her eyes opening, everyone saw that one of her eyes were silver while the other was ice blue. The pack began to think that she was the special pup the legend spoke of. 2 weeks after she was born, chaos between packs across the region began to target her pack to obtain her and make her part of their pack. One pack, known for committing tremendous crimes, arrived at their territory, and war broke out. Ayla's pack fought with everything they had, but in the end, they were slaughtered. The enemy pack claimed victory, but Ayla was nowhere to be found. They retreated back to their territory, after searching for her. After they left, another pack came to observe what had happened. They searched around the territory for Ayla. One scout found her under her mother's fur. Her brother, Fire, was nowhere to be found.After she was found, the pack went back to their territory and took Ayla with them and accepted her as one of their own. Even though she was treated like royalty in her new family, she decided to wear an eye patch to hide her silver eye. Ayla felt as if she didn't really fit in and as if she would cause more trouble if everyone knew that she has different colored eyes. So, to this day, she never took her eye patch off. Her new family taught her a lot of helpful skills and tips for if she decided to leave the pack when she got older. During her years of training, she showed great promise and vigilance. She was in training until the age of 10 months. She stayed with the pack until the age of 1. After that, she began her mission to hunt down the enemy pack that killed her family and avenge her true family.